Amy Schumer Deftly Challenges Beauty Standards In 'I Feel Pretty'
Before He Became The 'Night Court' Judge, Harry Anderson Was A Con-Man Magician
Remembering Milos Forman, Director Of 'One Flew Over The Cuckoo's Nest'
Electronic Dance Music Superstar Avicii Dies At 28
Avicii, the Swedish producer who was one of the world's most successful DJs, was found dead today in Muscat, Oman, his publicist confirmed to NPR Music. He was 28. No cause of death was given.
Born Tim Bergling, Avicii rose to worldwide fame quickly beginning in 2011 with the release of "Levels," and earning a Grammy nomination just one year later for his David Guetta collaboration "Sunshine."
Although he never reached the top of Billboard's main album or singles charts, his work was designed to appeal to the largest audiences possible, fusing broad dance textures with pop melodics. The approach led his song "Wake Me Up" to become the most-streamed song on Spotify at the time.
Eventually, the young artist rose — along with a massive expansion of the dance music festival scene worldwide, thanks in part to the promotions company SFX — of the busiest EDM artists in the world. But by 2016, he was already sunsetting his own career.
"Two weeks ago, I took the time to drive across the U.S. with my friends and team, to just look and see and think about things in a new way," he wrote in 2016. "It really helped me realize that I needed to make the change that I'd been struggling with for a while."
Reportedly suffering from acute pancreatitis caused in part by excessive drinking, Avicii decided to recuse himself from the busy, party-filled life of a world-famous dance DJ, cancelling his remaining dates.
"This was obviously the hardest decision of my life so far," he told The Hollywood Reporter in 2016. "But so far it has paid off tremendously in terms of well-being for me. I'm happier than I have been in a very very long time. Stress-free more than I have been in a very long time. I can't say I'm never going to have a show again. I just don't think I'm going to go back to the touring life."
The producer did, however, return to music in 2017, one year after his self-imposed exile. "This is the first year I felt like I've been able to kind of live normally for the first time in eight years or something."
Copyright 2018 NPR. To see more, visit http://www.npr.org/.

A Debt Crisis Seems To Have Come Out Of Nowhere
It's a problem that has come seemingly out of nowhere. Over the last five years a worrisome number of low income countries have racked up so much debt they are now at high risk of being unable to pay it back — with potentially devastating consequences not just for their economies but for their citizens, many of whom are already living in extreme poverty.
That's the sobering finding of a report by the IMF. And it's got some prominent experts calling for urgent action. Among them is Masood Ahmed. Twenty years ago, as a top official at the International Monetary Fund, he spearheaded a historic agreement to wipe the slate clean for 36 poor countries that were being crushed by their loan interest and repayment bills. NPR spoke with Ahmed — who is now president of the Washington-DC think tank Center for Global Development — to find out how this latest debt debacle was set in motion, why it has him so alarmed, and what can be done to avert it. (This conversation has been edited for length and clarity.)
Just how far and how fast has this problem spread?
To get a sense, says Ahmed, consider that of the 59 countries the IMF classifies as "low-income developing countries," 24 are now either in a debt crisis or at high risk of tipping into one. "That's 40 percent of poor countries," says Ahmed, "and it's nearly double the number five years ago."
Those in most trouble include two countries that have already defaulted on some of their loans: the Republic of Congo and Mozambique. Ahmed notes that these are not loans taken out by individual citizens. "This is money borrowed by governments," he says. "So the definition of a debt crisis is that they are not able to meet their obligations. They are already unable to pay the interest on their debt or to keep to the repayment schedule they had agreed to."
Four more countries are also already considered in "debt distress" because even though they haven't outright defaulted they've reached a point where they are making only intermittent loan payments or cutting deep into their operations budget to pay off their debt. These are Chad, Eritrea, Somalia, South Sudan, Sudan and Zimbabwe. The remaining 16 are considered at high risk of falling into debt distress soon based on the IMF's analysis of the amount of debt they've taken on compared to how much income their economies can actually be expected to generate in the near future. These too are mostly countries in sub-Saharan Africa such as Ghana, Zambia and the Central African Republic. But the list also includes seven nations from other regions, such as Afghanistan, Haiti, Tajikistan and Yemen.
What happens when a country can't pay its debt? What are the consequences for ordinary citizens?
Ahmed notes that even extremely poor countries offer all sorts of services to their citizens — keeping public order, maintaining health clinics and schools, providing food to people at risk of famine, investing in new infrastructure that can help grow the economy and so on. And even before reaching the point of actual default, governments with unsustainable levels of debt must begin diverting ever more of their budget away from such services so they can meet their debt payments.
The most vulnerable citizens are often the first to suffer. "For instance, people who show up to their local [public] health clinic that is already only open once a week may now find that it also doesn't have medicines," says Ahmed. "Or that school that was going to open this year to meet the needs of a particular neighborhood, it gets postponed."
So this is very much an on-the-ground crisis. "It's easy for us to think of these as abstract financial numbers. But it's very important to recognize that behind these numbers are the lives of people who are already living in very difficult circumstances."
And what if a government does default?
It gets far worse because the entire economy can be thrown into paralysis. When a government can't meet its existing debt obligations, explains Ahmed, "that makes it very hard to access new money." Lenders that provide this type of financing aren't going to want to throw good money after bad. And to keep up daily operations, governments need continual access to credit. Ahmed adds that these operations often include not just the provision of services to citizens but business activities that generate much of a government's income — extracting and exporting natural resources like copper or oil, for instance. These kinds of operations can become impossible without day-to-day credit. "Just like for a small business, you need to be able to borrow on a day-to-day basis for your cash flow," he says.
And as the day-to-day turns into year-to-year?
The consequences can be just as debilitating, says Ahmed. Once a country has defaulted it can forget about taking out loans or floating bonds to fund investments in infrastructure or other measures that would help grow its economy long term. Pretty much every type of lender that poor countries rely on is going to balk. This includes even international financial organizations, such as the World Bank, whose mission is to provide poor countries with low-interest loans or outright grants to help them develop. The thinking of officials at the World Bank, says Ahmed, is going to be "I don't want the money to just go to another creditor."
And so a kind of deadly feedback loop could be created: The country's debts would prevent its economy from creating the growth needed to pay off those very debts.
What about that massive debt forgiveness for 36 countries that you helped broker back in the 1990s — the "debt relief" campaign made so famous by celebrities like the rock star Bono. Wasn't that agreement supposed to end debt crises like these once and for all?
Yes, says Ahmed. And for about ten years the agreement was, in fact, remarkably successful. All sides had recognized their sins — the governments of the borrowing countries that had taken on the excessive debt and also the lenders that had pushed what had been in many cases clearly unsustainable loans — including governments of rich countries like the U.S., commercial banks from those countries and even the IMF and World Bank. In exchange for writing off the debt everyone vowed to be more responsible moving forward.
"But after a decade, memories start to get cloudy," says Ahmed. "And these commitments are, of course, not binding. If a country wants to go out and borrow money, they're going to go out and borrow."
And in recent years a whole new class lenders emerged to offer up easy credit — most notably the government of China and various associated Chinese banks and development agencies. "You had Chinese financial institutions and China as a country really expanding its presence and its financial role in developing countries," says Ahmed. "I find really striking [that] between 2013 and 2016 China's share of the debt of poor countries increased by more than the share of all these traditional lenders [who had made the loans back in the 1990s] put together.
Another factor: In the years since the 2008 financial crisis, interest rates in wealthier countries have been stuck at very low levels. "So people who have assets and want to invest their money all wanted to look for opportunities." These include managers of investments funds, pension funds and the like from wealthy countries. They had not historically been major sources of financing for poor countries. But in recent years they started snapping up bonds issued by African countries — whose economies at the time seemed to be growing at a healthy rate. These bonds offered much higher rates of return than bonds from wealthy nations.
Surely the borrowing nations also face some responsibility?
"Some countries quite frankly just took advantage of the availability of money," says Ahmed. He points to cases of outright fraud and corruption in Mozambique, Moldova and the Gambia — in which government officials borrowed money on behalf of their nations, then apparently pocketed it for themselves.
Then there are cases of countries that derive most of their income from exporting a few commodities — for instance, Zambia, which relies on copper. In recent years, the prices for many commodities fell sharply and stayed flat — depressing their national income.
"Suddenly you find that what you thought was a level of debt you could manage is harder to maintain," Ahmed says. Adding to the problem, instead of cutting their national budgets to account for the lost revenue, these countries turned to borrowing to make up the difference.
And then there were the cases of simply less-than-ideal management. "I'm thinking of countries like Ghana and Ethiopia," says Ahmed, "where they just felt, you know people are willing to give us the money, let's do it." And then they failed to use the money for productive investments. "In many of these countries about half the increase in borrowing was not associated with an increase in investment. It was just used to spend more on current spending, things like salaries."
So is there a fix?
Ahmed says it's clear some kind of debt re-structuring and forgiveness is going to be needed. It will require getting all the creditors to the table to agree on the terms. "And that is not an easy thing to do."
Back in the 1990s it took years of grinding negotiations. This time around the process is likely to be even more complicated because so many of the creditors are new to the game. "The IMF is still a very good place from which to have this conversation," he says. But it is essential to bring in China and let it play a leadership role.
Given the challenges, this effort needs to start now, he says. Yet there seems to be a lack of urgency among world leaders. While IMF officials will be discussing the debt issue in Washington this Saturday as part of their annual spring meetings, it's just one of a host of topics on the agenda.
What's more, while the amount of debt involved may be crippling to poor countreries, it's just a drop in the bucket of the global economy. This debt crisis is not going to cause a worldwide financial meltdown. So unlike the classic debtors in financial crises who benefit from being too big to fail, these nations could find themselves too poor to warrant a bailout.
Copyright 2018 NPR. To see more, visit http://www.npr.org/.
3-Day Symposium Explores What Prince Meant To Minneapolis, And The World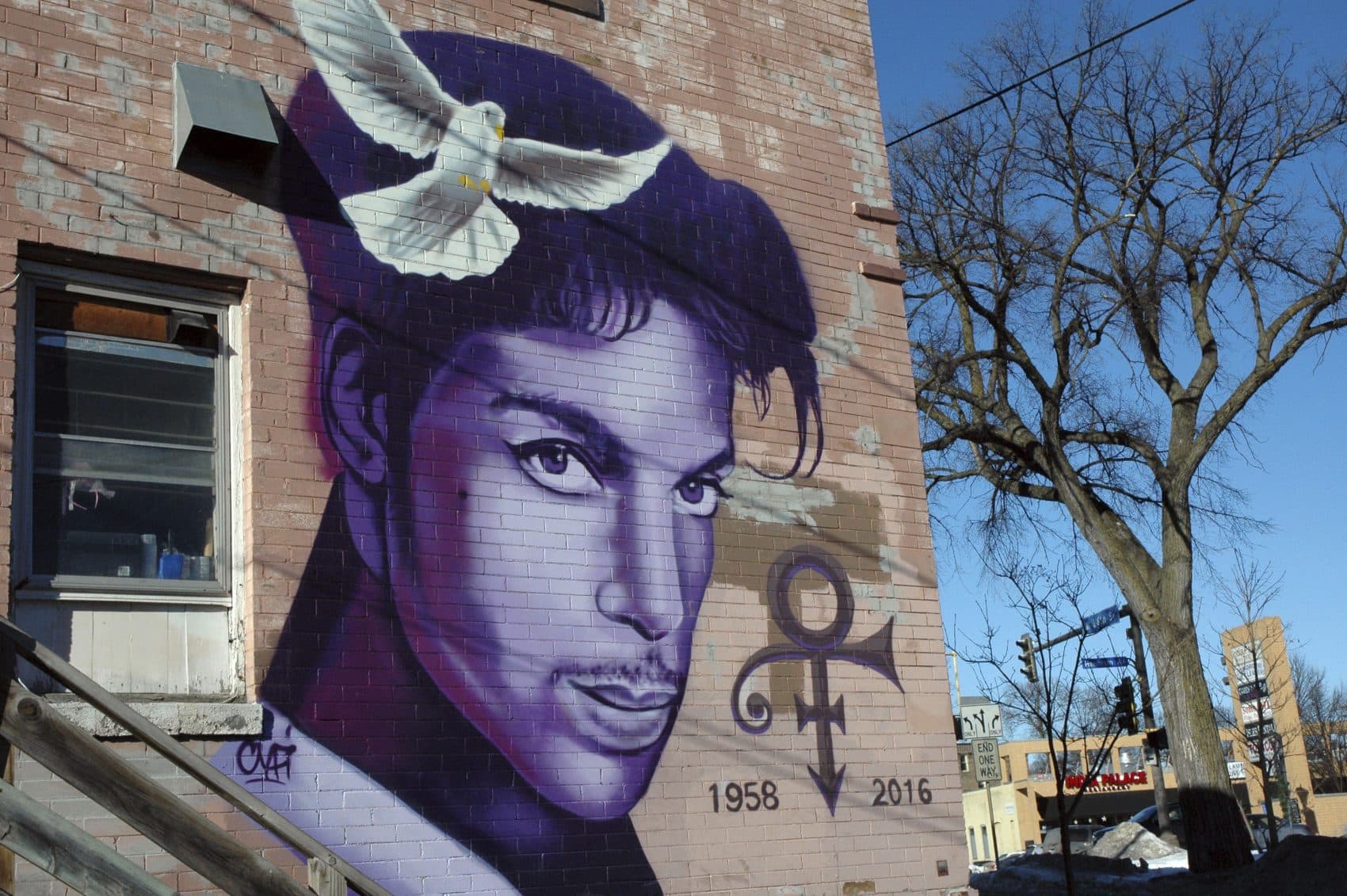 Prince's contributions to the world go far beyond his music, and his impact was the focus at a major symposium at the University of Minnesota called "Prince From Minneapolis." It attracted people from all over the world and explored Prince's unique relation to Minneapolis and Minnesota.
Here & Now's Lisa Mullins learns more from one of its organizers, University of Minnesota assistant professor Elliott Powell (@ehphd).
Copyright 2018 NPR. To see more, visit http://www.npr.org/.
Border States Prepare For National Guard
It's been just over a week since the governors of Texas, Arizona, New Mexico and California committed to send around 2,000 National Guard members to the U.S.-Mexico border, in response to a call to action by President Trump, who says there's been an uptick in illegal border crossings and drug trafficking.
Approximately 900 troops have already arrived, but operations are not yet fully underway. Texas Public Radio's Carson Frame (@carson_frame) reports.
This story was produced by the American Homefront Project, a public media collaboration that reports on American military life and veterans. Funding comes from the Corporation for Public Broadcasting and the Bob Woodruff Foundation.
Copyright 2018 NPR. To see more, visit http://www.npr.org/.
Ariana Grande's 'No Tears Left To Cry' Pushes Past Grief
The lead-in to Ariana Grande's comeback single, as per most pop diva returns, was ecstatic. Memes abounded online — of her cryptic, upside-down tweets, her low-slung ponytail. She rolled out a preview of her voice in an echo chamber of melisma. It's a traditional pop roll-out, except with the gravity of loss and tragedy still hanging in the air.
"No Tears Left To Cry" comes as Grande's first single since the bombing at her Manchester concert in May of last year, which killed 22 people and injured 59. There are slight cues to signify that these horrors continue to occupy her: the rainbow that crests her cheek on the single's artwork, perhaps a callback to the "Somewhere Over The Rainbow" cover from her One Love Manchester performance; a bee flies in the music video's final moments, which, as noted by the BBC, serves as an emblem for Manchester.
If nothing else, "No Tears" eases Ariana Grande back into the public eye as a capital-P pop star without the weight of the Manchester tragedies breaking her. She feints through much of the song, for better or worse, turning a devastating, world-shattering moment into subject matter suited for a Max Martin production (here joined by Ilya Salmanzadeh). Grande addresses a "babe" as she gravitates toward "another mentality." She's "out here vibin'." The vagaries can be read as indirectness, as is the "Show Me Love"-lite thump that underpins her still-sterling voice.
So too can the Dave Meyers-directed music video, which runs with the idea of the world toppling over and places it into aesthetic chaos. It's the sort of visual that lends itself to plausible deniability. Grande struts and traipses across a brooding, topsy-turvy cityscape in one cut, is tessellated in shimmering lipstick and ensnared in a web of string lights elsewhere. In one particularly odd scene, she takes off her face and hangs it up with a collective of other faces.
"No Tears Left to Cry" isn't a return-to-form filled with pop diva largess. But it doesn't need to be. It's the sign of Grande moving forward, her private grief turning into catharsis to be blasted on the airwaves.
Copyright 2018 NPR. To see more, visit http://www.npr.org/.
Each Day That Passes, Pressure Grows For Chemical Inspectors Waiting In Syria
As chemical weapons inspectors wait to investigate an alleged strike near the Syrian capital of Damascus, former inspectors say the challenges the current team faces are daunting.
The inspectors arrived in Syria on April 14, on a mission to investigate a suspected chemical attack in the Damascus suburb of Douma seven days earlier. Unconfirmed reports from the scene suggest that dozens may have died.
But so far the inspectors have been unable to reach the location of the attack to verify the facts for themselves. A United Nations reconnaissance team that visited the area on Tuesday came under fire and was forced to turn back. For now, the inspectors are sitting in their hotel rooms, waiting.
"There's nothing they can do. They can't force their way in," says Dieter Rothbacher, a former chemical weapons inspector. The team wants to gather the evidence while it's fresh, he says. "Every day that passes the pressure gets bigger."
The inspectors were sent by the Organisation for the Prohibition of Chemical Weapons in The Hague. The OPCW is responsible for overseeing the Chemical Weapons Convention — a 1997 treaty banning the production, stockpiling and use of such weapons. Syria signed up to the convention in 2013 after a chemical attack in another Damascus suburb left hundreds dead.
Even though the Syrian government is legally obligated by the convention, the inspectors have limited powers, says Jerry Smith, another former inspector who worked in Syria in 2013 and 2014. "The OPCW is not the world police," he says.
In an email, an OPCW spokesperson declined to comment on when the nine-person investigation team would be able to enter Douma: "We are unable to share operational details about this deployment. This policy exists to preserve the integrity of the investigatory process and its results as well as to ensure the safety and security of OPCW experts and personnel involved."
Smith says during his time in Syria, he operated under the watchful eye of the government of Syrian President Bashar Assad. He believes security forces were keeping close tabs on his every move. "I'm sure we were being listened to: our phone calls monitored and our computers hacked and our rooms bugged," he says.
Smith went to Syria shortly after the government joined the Chemical Weapons Convention in order to avert U.S. strikes and appease its chief patron, Russia. He helped to destroy some 1,300 metric tons of declared chemical weapons and their precursors. Although Syrian government officials generally seemed happy to help the OPCW team, things could get tense. "Some of the visits, the inspectors had weapons pointed at them," Smith says.
This time around, Syria invited the OPCW inspectors in to investigate the Douma attack. The invitation provided the inspectors with the legal basis to enter Syria, but it gives the Syrian government the ability to control their activities.
That makes the work of inspectors dramatically different from that of law enforcement. "In a police investigation, 99 percent of the stakeholders of that investigation want the truth to be found out," Smith says. But in the case of the latest attack, a chief suspect is the same government that's hosting the team.
Already the delays will make it difficult to determine what happened in Douma. Analysts and local rescue and medical workers who observed victims have suggested chlorine was used. Chlorine is a highly volatile compound that evaporates quickly, says Rothbacher. "The best places to sample now are the people who have supposedly been hit," he says. But Syrian government officials will likely determine whom inspectors talk to and what they see.
Even if the inspectors can gather evidence, they won't be able to point the finger at anyone. "The inspectors are basically there to collect facts," says Ralf Trapp, a chemical weapons expert who has worked closely with the OPCW. "The question whether there was a violation of the chemical weapons convention, that's a political question, that's not really their job."
The political process for ascribing blame is broken, Trapp adds. A U.N. system for investigating chemical weapons violations in Syria broke down last October, after Russia, a close ally of Syria, vetoed its renewal.
Without that political process, whatever facts the team can collect will likely be spun by all sides in the conflict. "Whatever they do will be imperfect, whatever they do will be criticized," says Smith.
But the inspectors can do something few others can. The team is made up of scientists, medical experts and engineers from all over the world. Their work is careful and methodical. At the end of the day, it may be able to provide something sorely lacking: impartial data concerning the events in Douma.
"If you're lucky with the science, the science will quite conclusively disprove some of the stories," Smith says. But, he adds, "It's a kind of a slow process."
Copyright 2018 NPR. To see more, visit http://www.npr.org/.
Why A Wheelchair Cannot Come Between Love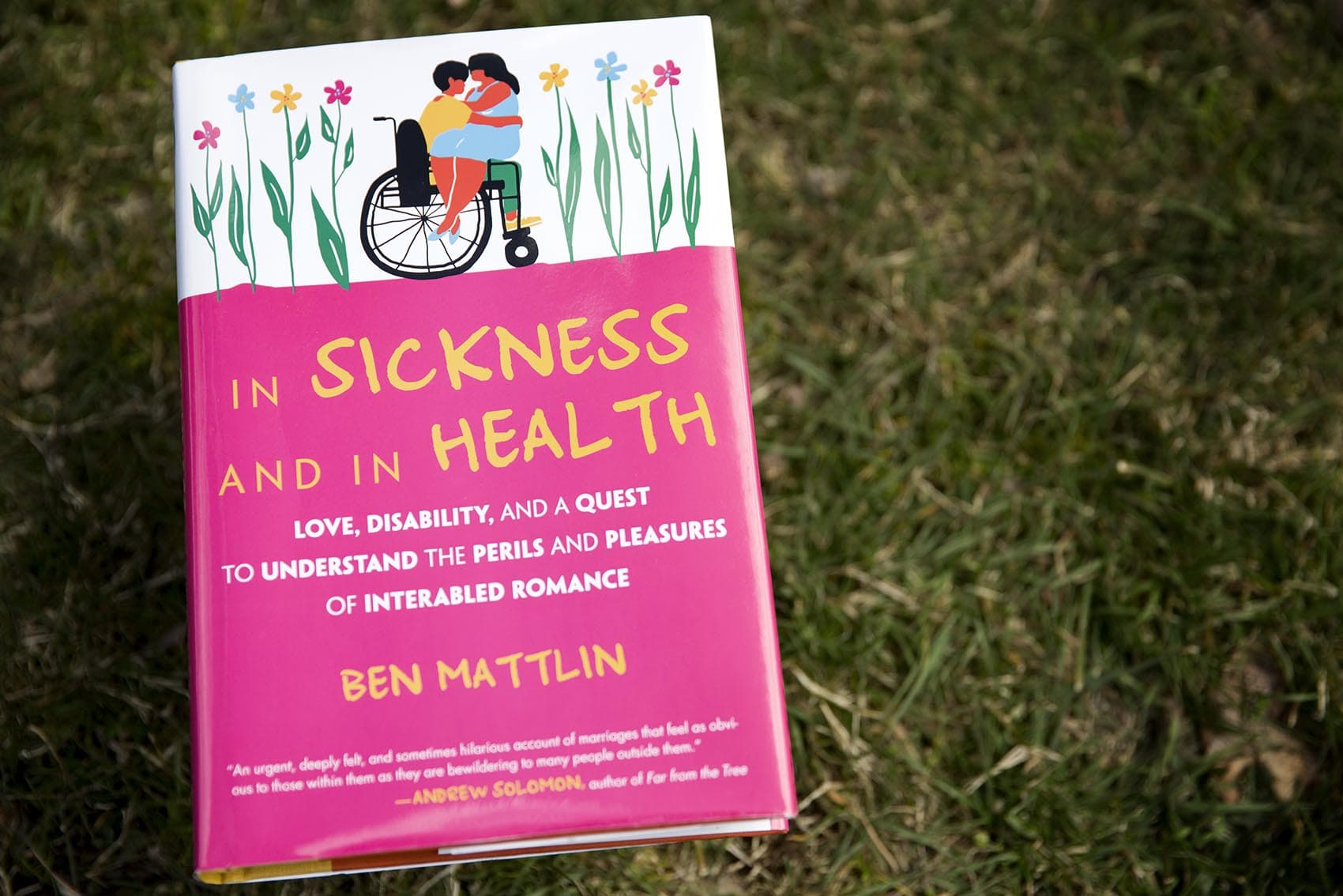 Ben Mattlin was born with an incurable degenerative condition called spinal muscular atrophy, which has prevented him from walking, standing or, as he has aged, using his hands. But like many people who have disabilities, he did find love with M.L., his able-bodied wife.
Here & Now's Lisa Mullins speaks with Mattlin (@benmattlin) about his story and other examples of "interabled" couples he highlights in his latest book, "In Sickness and In Health."
Book Excerpt: 'In Sickness And In Health'
By Ben Mattlin
Back in 2012, I had the good fortune of publishing a book. That book. You know, the one able-bodied people are always telling crips to do because they're sure it would be "so inspirational!"— in short, a memoir about growing up with a severe disability and
somehow prospering.
Indeed, being unable to walk or even scratch my nose hadn't prevented me from going to Harvard. I was one of the first quadriplegics to matriculate, if not the first (bragging rights not yet fully established). It hadn't prevented me from marrying (and staying married for twenty-six years now, and counting), having two delightful children, and forging a career as a freelance journalist. But of course, you already know all that, if you've read my first book.
Miracle Boy Grows Up introduced people to spinal muscular atrophy, the neuromuscular incapacity with which I was born. I have no muscles but full sensation (more about that later). I learned to live with it just as the world was learning to live with people with disabilities as a political force, a civil rights movement. But what to do for a follow-up? I'm not Mary Karr! My life only has one book in it.
Some readers were insistent. A number of them suggested I delve deeper into my marriage, expose the secret spats and salacious highlights. But I didn't want to turn myself and my wife, Mary Lois (who does not have a disability of her own, poor thing), into gossip fodder, thank you very much.
Yet the nugget of an idea began to form.
Surely, we can't be the only "interabled" couple, for lack of a better term. Quick research showed that, although the statistics are unreliable, there are many marriages between people with and people without disabilities. And as the population ages and medical and technological advances enable people to survive illnesses and injuries in greater numbers than ever before, more and more folks are finding themselves in more or less our situation.
To the media and general public, though, this kind of amatory partnering is often treated as an odd phenomenon. Not long ago, the cover of People magazine flaunted the marriage of Gabby Giffords—the brain-injured former congresswoman—and her husband, astronaut Mark Kelly, as a "special but unconventional love affair." Is that supposed to be flattering? This treacly hooey could give you diabetes!
I also keep hearing and reading about the aging population, this wave of debility and decay that's creating a "caregiving crisis" (New York Times, February 26, 2014, among others). To me, this trend dovetails with the worrisome news of veterans who are returning from Iraq and Afghanistan with disabling injuries—the wounded warriors with young spouses who don't know how to cope with their disabilities.
I know strangers frequently regard M.L. and me as either tragic or noble. (We're neither.) At the root of all this wonder and puzzlement, I think, is simple curiosity: How do they get by? Will they be all right? To put it another way, what people really ponder is: What kinds of pressures does disability put on a marriage? (The former activist in me protests: These quandaries are predicated on outmoded, unflattering presumptions that people with disabilities are nothing but burdens and liabilities! Certainly we bring more to our marriages than our bodily limitations!)
In an age when interracial and interfaith marriages are common, it seems odd that romances like ours still leave people perplexed and awestruck. Many times I've heard M.L. calmly explain to the inquisitive, "I simply fell in love with a guy who happened to be in a wheelchair. Nothing noble or self-sacrificing about it." (In funny moments, she's added, "It's not like he was a Republican or something!")
While this is certainly true, it'd be foolish to deny the challenges inherent in interabled conjugality. Financial challenges, emotional challenges, and—yes—physical challenges. No doubt it was a tad bold and naïve of us to trust that love would overcome all differences—if, indeed, differences need overcoming. Now that we're past fifty, M.L. and I can concede that some reflection about how exactly we've managed might prove fruitful. I myself sometimes wonder: Why did she want to tie up her life with mine? And what gave me—a man who depends on round-the-clock personal-care assistance—the chutzpah to imagine, even expect, he could marry and live a normal life like anyone else?
On the other hand, M.L. and I enjoy an undeniable degree of closeness, a give-and-take that other couples might envy. We finish each other's sentences, not always correctly but usually close enough. More than that, we can anticipate each other's moods or reactions to stimuli. She can get me comfortable in my chair when I can't even figure out how to ask or what to ask her for. As for me, well, I can never understand why, in movies, men don't know their wives are pregnant until the wives divulge it like a big secret. Weren't they keeping track of their wives' menstrual cycles? Don't all guys do that, or am I the anomaly? (Probably something in between "all guys" and "only me," but still.)
Is our brand of symbiotic intimacy unique to our in-sync personalities, or could it be a function of our complementary differences, of interabled couplehood in general? Is this, in short, a benefit? (And if so, somebody had better tell those couples who are newly facing disability, before panic and anxiety destroy them!) Did we arrive at it naturally or is it something we've developed and honed over time? And perhaps most crucial of all, can it last?
To shed light on these and other related mysteries, to gain a stronger self-knowledge and advocate for others who may be facing similar questions and judgments, I embark on a quest to zero in on the glue that binds M.L. and me, to study what sticks interabled couples together and perhaps simultaneously give hope to those who are struggling with the mating game. I'll endeavor to accomplish all this through frank conversations with a variety of twosomes at different stages of their romantic lives and from different backgrounds. By coaxing them to share their journeys, I hope to unearth a rich vein of compelling and instructive group-wisdom. My mission, I realize, may reveal something I don't want to see. Like picking at a scab, I might expose lingering insecurities that remain raw and unresolvable. Yet I hope to come out on the other end with not only a better understanding of my own marital bond but also insights into why certain interabled marriages fail while others survive despite—or perhaps because of?—incredible strains.
I'll start with my own marriage to M.L. Then I'll identify other subjects who have something worthwhile to offer and represent a particular perspective. (To be sure, there are plenty of couples in which both members have disabilities, but they're beyond my scope.) Call my survey unscientific and subjective as all get-out, if you like, but I'm certain these discussions will illuminate a broad spectrum of deep-seated truths—and resolve any haunting, personal doubts about whether M.L. and I are a typical interabled union or something unique.
Excerpted from In Sickness and In Health: Love, Disability, and a Quest to Understand the Perils and Pleasures of Interabled Romance by Ben Mattlin (Beacon Press, 2018). Reprinted with permission from Beacon Press.
Copyright 2018 NPR. To see more, visit http://www.npr.org/.
How I Made It: Centavrvs and Their New Sound
Copyright 2018 NPR. To see more, visit http://www.npr.org/.
Copyright 2018 NPR. To see more, visit http://www.npr.org/.