Avoid Traffic Fines By Confessing Online
Copyright 2018 NPR. To see more, visit http://www.npr.org/.
Meet The Students Who Dreamed Up Friday's National School Walkout
When Lane Murdock, a high school sophomore, heard that 17 high school students and educators had been killed in a shooting in Parkland, Fla., she says she felt numb.
To her, and so many others, mass shootings can feel all too common in the U.S.
"In the time I've been in high school we've had the Pulse, Las Vegas and now, [the Parkland] shooting," Murdock says.
So that same day, Feb.14, Murdock started a Change.org petition that so far has received more than a quarter-million signatures. Her ask? A walkout to protest violence in schools that she planned to coincide with the anniversary of the mass shooting at Columbine High School in 1999. Murdock was born in 2002.
On one of the last days of spring break, she and seven other students from her high school in Ridgefield, Conn., gather around a few tables at their town rec center. They have been working hard, even losing sleep, trying to get organized for the day. As Murdock says, "Success knows no sleep."
This is, by far, the biggest event they have ever planned. She and her team have more than 2,500 walkouts across the country registered through their website. They've drafted a long to-do list, including everything from securing a stage for speeches for their local walkout, to reaching out to the national press.
"Prioritize," Murdock tells her team, "We're not going to be able to get 100 percent of these things, I can guarantee that, but it's important that we get the important things."
Murdock wants the walkout to go down in history but acknowledges that it won't represent every student's perspective. Some polls show that young people are no more liberal than older generations on gun control.
And other students who live with gun violence regularly have said they don't feel represented in the social movements following the shooting at Parkland.
"There's gun violence that's been happening every day that isn't a school shooting," Murdock says. She wants the day to be inclusive. On the other hand, she knows it will be uncomfortable.
"We get hate comments online all the time because we're angering people, and we're angering people because we're scaring them, and if we're scaring them it's because we're doing something," she says.
She wants people to know that she's imagining this day to be very different than the March For Our Lives or the 17 minutes of silence on March 14 in honor of the victims in Parkland, Fla. This walkout will last from 10 a.m. through the end of the day.
"People ask me, like, 'Why? Why all day?' " Murdock says. That's because "this is a topic that deserves more than 17 minutes." Part of the plan for the day is to get students together in what they refer to as "a call to action," registering voters or writing to elected representatives about the need for further gun control, for example.
These student organizers have gotten help from a national nonprofit called Indivisible, a group that says it aims to "fuel" young people to "resist the Trump agenda." Paul Kim, a senior at Ridgefield in charge of communications for the event, says Indivisible helped the high school organizers map their outreach online.
"I got every chapter signed up in Texas," Kim says, talking about all the walkouts they've registered. "And these people emailed back ... I could like feel the Texas in the email. The accent, everything." The group laughs.
To Murdock, the widespread support she says they've seen shows that sensible gun control doesn't have to be partisan.
"It is not conservative or liberal. It is just about making sure our children don't get harmed in school and we don't live in a community and in a country that has institutionalized fear," Murdock says. "I think we're all sick of it. That's why we're doing this."
She grew up with that fear. Her school had regular lockdown drills after 26 students and educators were killed in a shooting at Sandy Hook Elementary School when she was in fifth grade. It happened just 20 miles from her classroom.
She says there is a reason why she felt desensitized when she heard about Parkland. She and her team of fellow organizers at Ridgefield say that gun violence in the U.S. has gone on for too long.
"Change happens through patience and this fight does not stop after April 20," Murdock says. "There is going to be a lot of work to be done after April 20 and that is going to include you guys and it's going to include tons of students all across this nation," she says talking to the group.
At 10 a.m. local time on Friday, thousands of students will march out of their classes wearing orange for gun safety and chanting for change.
Copyright 2018 WSHU. To see more, visit
WSHU
.
Republicans Push Bill To Protect Mueller, Without McConnell's Support
Senate Majority Leader Mitch McConnell, R-Ky., may not have any interest in allowing a vote on a measure to make it harder for President Trump to fire special counsel Robert Mueller, but that isn't stopping some Republicans from forcing the debate.
North Carolina Republican Thom Tillis said Wednesday that he will continue working on a bill to allow Mueller access to speedy judicial review if Trump tries to force him out of his job leading the Justice Department investigation into Russian interference in the 2016 election — with or without McConnell's support.
"We'll have a markup and a vote in committee," Tillis told reporters. "It's something that can lie in the Senate chamber. Facts may lead to passage or not."
Tillis said he plans to continue lobbying leadership on the bill, even after McConnell explicitly rejected the legislation.
"This is not necessary, there's no indication that Mueller is going to be fired," McConnell said in a Fox News interview on Tuesday. He added, "We'll not be having this on the floor of the Senate."
But Tillis and other supporters of the bill say they aren't backing down. Sen. Jeff Flake, R-Ariz., said Wednesday that the goal isn't necessarily to pass a measure with the hope of forcing Trump to decide between signing the bill or issuing a veto. The real goal, he said, is to send the president a message.
"If the goal — and I think it should be — is to convince the president not to take this action," Flake told reporters, "I think the message needs to be that we take this very seriously."
There are plenty of Republicans who say they agree the issue should be taken seriously, but they want to lobby Trump quietly — not through an aggressive public measure like voting on this bill.
Supporters of the legislation say that's just wishful thinking. Sen. Richard Blumenthal, D-Conn., said Tuesday that Republicans who hope to they can convince Trump not to fire Mueller through such discussions aren't facing reality.
"If he's not listening to his own lawyers, I don't think he's going to listen to a bunch of U.S. senators," Blumenthal said.
Trump has crossed Republicans on a number of issues, like the recent tariffs on China. Many in Congress have grown wary of a string of White House firings — like that of former Secretary of State Rex Tillerson — that came without any warning. Blumenthal said Trump could do the same to Mueller.
Another group of Republicans, including McConnell and Sen. Orrin Hatch of Utah, simply believe Trump won't fire Mueller.
"It's hard for me to just hypothetically think in this direction because I just don't think it's going to happen," Hatch said on Tuesday. "It would be a mistake."
There are also political reasons for Republicans to want to avoid a public display of support for Mueller. Forcing a vote could also create an impossible choice for Republicans running for re-election against strong Democratic challengers.
Either they vote against the president and commit what would be considered a cardinal sin by many in Trump's fervent base, or they vote against protecting Mueller, which could anger moderates worried Republicans won't stand up to Trump.
Either way, Democrats like Sen. Dick Durbin of Illinois want Republicans on the record.
"It isn't a question of whether Trump might one day veto it," Durbin said Tuesday. "It's whether they believe in the integrity of the special counsel or they believe anybody, including the president, should be above criminal investigation."
For now, a majority of Republicans say they agree that the special counsel should be allowed to finish his investigation. And they say they trust that Trump won't get in his way.
Speaking at a press conference with Japan's prime minister Wednesday in Florida, Trump provided little clarity about the fate of Mueller or Deputy Attorney General Rod Rosenstein, who has overseen the Justice Department investigation since last year.
Trump repeated his charge that the Russia matter is a "hoax," but he stopped short of saying he would fire Mueller or Rosenstein.
"They've been saying I'm going to get rid of them for the last three months, four months, five months, and they're still here," Trump said.
The president also reiterated his view that there was no collusion between his campaign and the Russians involved in the election interference. He also said that the White House has been cooperating with the Mueller investigation and "we want to get it over with, done with, put it behind us."
Copyright 2018 NPR. To see more, visit http://www.npr.org/.
Reducing Voters' Paperwork Might Expand The Voter Rolls
Political brawls over voting laws have consumed states across the country for the past decade. But below the surface, a movement to automatically register eligible voters to vote is rapidly gaining traction. By next year, more than a quarter of all Americans will live in states where they no longer have to fill out registration forms in order to cast a ballot.
The latest state to implement automatic voter registration is California, which had been scheduled to start on Monday although it's been delayed while officials conduct more testing. Everyone who meets the legal requirements to vote in California will be automatically registered when they update their driver's license or state ID at the Department of Motor Vehicles, a move that election officials expect will help move some of the more than six million eligible, but unregistered, residents onto the state's voter rolls.
While California is the largest and most populous state in the country to adopt automatic voter registration (known as AVR), a dozen states and the District of Columbia have also taken it up since 2015, according to a review by the Brennan Center for Justice at New York University's law school. Just this month, lawmakers in Maryland and New Jersey approved AVR and Massachusetts could soon join the list with more than a dozen additional states considering the shift. In Nevada, the issue is on the ballot in this November's election.
"I think that it's a simple, common sense approach," said Natalie Tennant, who is a former West Virginia secretary of state and now affiliated with the Brennan Center. While she was in office, West Virginia became the third state in the country to pass automatic voter registration.
While many voting rights laws have sparked controversy over the last decade, this voting policy is seen by many as bipartisan — a mechanism that modernizes the voting system and saves tax payer dollars. In Georgia, for example, the switch was approved administratively by the Department of Driver Services in 2016 during Secretary of State Brian Kemp's time in office. Kemp, a Republican, is now running for governor.
In California, eligible applicants who complete a driver's license, ID card or change of address transaction with the DMV will be automatically registered to vote unless they choose to opt out. The current voter registration system requires residents to fill out a separate form. In some states that register voters automatically, state agencies, such as the health insurance exchange or social service agencies, will also add previously unregistered voters to the rolls.
One argument proponents make is that automated registration streamlines voter registration, reducing the number of paper forms required and the amount of government staff time needed.
"We want efficiency in our government and this is certainly a way to get it," said Tennant.
To assuage Republican fears about voter fraud, supporters of AVR also argue the system makes voter rolls more accurate and up-to-date, reducing the chance that ineligible voters can cast a ballot.
Still, opponents have raised concerns people who are legally ineligible to vote could be registered under AVR.
Election officials say there are steps in place to protect against that. California, for example, allows undocumented residents to get driver's licenses — state officials announced earlier this month that more than a million such cards have been issued since the law went into effect in 2015. But undocumented residents will be ineligible to register to vote and state law prohibits California's DMV from submitting their information to the secretary of state's office.
The new application includes a series of eligibility questions that ask whether applicants are a U.S. citizen, a resident of California, at least 18 years old, not currently in state or federal prison or on parole for a felony conviction, and whether they've been found mentally incompetent to vote by a court. Voter registration data received from the DMV is also checked against existing records in California's statewide voter registration database, according to Sam Mahood, press secretary for California's Secretary of State Alex Padilla.
The shift to automatic voter registration could bring millions of new voters into the political process. In California, as many as two million additional voters could be registered ahead of the 2020 election, according to estimates by Paul Mitchell, the vice president of the bipartisan data vendor Political Data. The latest registration report in California shows there are 18,980,481 registered voters in the state as of early January.
"Overall this should have a rather significant increase in voter registrations. Whether that correlates to turnout is a different question," Mitchell said.
Mitchell points out registering to vote doesn't guarantee people will take time to vote, but says it does remove an administrative hurdle.
In Oregon, the first state to pass automated voter registration back in 2015, there have been some early signs that the change may be increasing turnout. About 100,000 voters who were registered through the new system showed up to vote in 2016. The state saw a four percent increase in voter turnout from 2012 to 2016.
Copyright 2018 KPCC. To see more, visit
KPCC
.
Beauty And A Bump On The Head In 'I Feel Pretty'
Many years ago, at a party where I was very drunk, I asked a much-desired woman of my friendly acquaintance what it was like to be pretty.
While this sounds like such pathos that it could bring down a nation with one massive cringe, all I remember feeling was curiosity that I felt loosened enough to satisfy. No, really: What is it like? It was that kind of conversation — the kind you have on a deck when you've stepped outside of a crowded room to breathe air. Maybe someone else is out there, maybe smoking. You're interrupted periodically by swells of laughter from inside. You start to talk about things that you otherwise wouldn't, not in spite of the fact that you don't know each other that well as much as because of it. And so I asked her what it was like to be pretty, like I might ask someone what it was like to carry triplets or walk on the moon.
My recollection is that she said it really wasn't all it was cracked up to be. She attempted no false modesty, because she didn't find it all that impressive a quality to possess. Yes, she was pretty. No, it wasn't that great.
The new film I Feel Pretty, written and directed by Amy Kohn and Marc Silverstein, is aptly named; it's not about what it's like to be pretty as much as what it's like to feel pretty. It's about the mythical power some women attach to being beautiful in those specific ways most commonly associated with social power: thin, smooth and unblemished skin, the "right" bone structure, the "right" kind of chin and nose and wide eyes, the thick and healthy hair of a shampoo model.
For some women, two lessons exist in constant tension: (1) You must be pretty to be valued, but (2) It's really what's on the inside that counts. This can — or so I may have hypothetically heard — set off a repeating loop that goes something like this:
I am not happy with my looks. --> I am not good. --> It's really what's on the inside that counts. --> This means my insides are not good either, or I would be good. And I am not good, because --> I am not happy with my looks.
When we meet Renee (Amy Schumer), she is caught in this loop. She feels ugly, so she is SoulCycling and makeup-tutorialing and foundation-garmenting. Her job running a web site for an upscale cosmetics company (from a janky basement outpost) seems to be rubbing salt in her own wounds. But at the same time, she's hiding quietly, because nothing has worked yet. She aspires to a beauty that always seems to be a few products away. She doesn't just feel bad about her looks; she feels bad about her entire self, although she works and has friends who love her, who are played heroically by the fantastic Aidy Bryant and Busy Phillips, who need their own comedy, pronto.
Renee feels as if being beautiful would be the answer to everything, and if she could only achieve it, it would be what she needs. While watching Big (a nice touch), she gets the idea to make a grand wish to be beautiful and see what happens.
Here is one way the movie could have gone from this point: Renee wakes up Gorgeous just as Josh woke up Big, and Amy Schumer is swapped out for some other actress believed to more perfectly represent Hollywood beauty, and she learns that being beautiful isn't everything she dreamed it would be, and then she goes back to being herself, knowing that there's no place like home and the grass is always greener on the other side of the cheekbone and all that.
Here is another way the movie could have gone from this point: Renee wakes up falsely believing herself to be suddenly beautiful, and she becomes a self-involved buffoon who makes everyone miserable, whom nobody likes, until she comes back down to earth and realizes that she's still just her ordinary self, and her relationships are healed.
Here is how the movie actually goes: Renee hits her head and wakes up seeing herself in the mirror as her perfect, beautiful ideal, while everyone else still sees her as she is. Suddenly, she feels confident. It's not a magic bullet, her confidence — the ultra-glam women at the cosmetics company still look crooked at her, still think her confidence is cute but maybe intended ironically. Men don't suddenly flock to her.
But doors do open that previously seemed closed. She meets people through a boldness that, while it's based on bad information, she never possessed prior to this point. She applies for jobs she would not have before. She dances, shakes, spins, wears short skirts she feels great in, expects people to be interested in her, and expects to be good enough for opportunities she wants to take, romantic or professional or otherwise.
When the I Feel Pretty trailer first came out, I saw some grumbling about anyone pretending Amy Schumer is ugly. This wasn't really getting at beauty myths, went the complaint. This wasn't really exploring what it's like to feel rejected because of your looks. Lurking under some of these comments was essentially this sentiment: Amy Schumer is not that fat.
Couple things.
First of all, sure. But Amy Schumer decided to enter the entertainment industry, and in that context, if by "that fat" you mean "fat enough that she would be constantly made aware of it and at risk of losing jobs because of it," she is indeed that fat. Not if she were in many other jobs. Not if she wanted things besides being an entertainer and a lead actress in movies. But to suggest she can't know from this stuff because she doesn't diverge from those norms enough in the Hollywood context is absurd. That's why it's smart that the film places Renee in a high-end Manhattan cosmetics company. There, she is side-eyed for her looks. If you think she couldn't feel self-conscious in context, I invite you to roll up to any entertainment industry event in L.A. and look around for five minutes.
Second of all, I suspect our actual fat actresses would appreciate not being asked to stand, definitionally, for unattractiveness. What fat actresses we have are often strikingly pretty in conventional terms when it comes to literally everything except being fat, and I'd rather they weren't expected to stand up in every project like this, where their size alone is supposed to make them ugly. They make Spanx for women with a 24.5-inch waist. Worrying about your belly is not limited to women who shop at Lane Bryant, and it's not the job of plus-size actresses to assume they are unattractive for the education of other people.
The closest a lot of films get to considering the role of appearance is the makeover. And the makeover is rather a nauseating device, if you think about it. Generally, the way it works is that the woman is sort of mousy, so the man isn't interested in her as anything except a friend, and then she gets a makeover and it turns out that she was just hiding the beautiful woman within. Suddenly, he sees her for the potential love interest she's been all along.
This goes back to a romanticized version of "it's what's on the inside that counts." It holds that if you are wonderful on the inside, then you are actually also physically beautiful and you're just hiding it. Once you translate that inner beauty into outer beauty, congratulations: You deserve love! And very often, that makeover comes from a very particular kind of confidence: the newfound confidence in the looks you have.
I Feel Pretty is almost a reverse makeover movie. Renee gains confidence not in the looks she has, but in looks she doesn't have. We never see exactly what it is she sees when she looks in the mirror, which is smart: It saves the film the endless so-there-ing about "Frankly, I think she looks better as Amy Schumer." What changes is not her looks, but her relationship with her looks. So what matters is that Renee is seeing whatever it is that Renee has always wanted to see when she looks in the mirror, and it transforms aspects of her behavior. It's not just the new confidence, but the release of what's obviously an ocean of anxiety over her appearance. Suddenly, she barely knows what to do with the energy she's been spending fretting over how she looks sitting next to the other people at SoulCycle.
The best-executed element of the film is Renee's relationship with Ethan, a guy she meets at the dry cleaners, played by Rory Scovel. We know all along that he is seeing Renee as she is, but she doesn't. She isn't able to appreciate what he first likes about her, which is her boundless confidence, because she thinks it's just the glow she gives off by looking so physically beautiful. Scovel's performance is quiet and canny as Ethan watches and considers Renee, and some of their scenes even explore her assumption that only women are ever nervous about how they look.
What works less well is the way Renee's relationships with her friends grow tense after her change in perspective. Bryant and Phillips are just divine in these roles, and there's not nearly as much meat on the bones of the friendship story as there is with the romantic story. I wished there were more.
Maybe the weirdest, most delightful surprise in the film is Michelle Williams — yes, four-time Oscar nominee Michelle Williams — having an apparently great time as Avery, the squeaky-voiced granddaughter of the cosmetics company's founder, played by Lauren Hutton in another nice bit of casting. To say that Williams has not made a career of light comedy is an understatement, but what a hoot (yes, we're going with "hoot") to see her suddenly row in an entirely different direction, performing her own feat of reinvention.
It's not a perfect film, by any means. Parts of it are as corny as a muffin, and there's an entire male character I would argue is superfluous and could have been excised without anyone even noticing. But it's trying to be about something that very few films are about, which is internalizing the mystical power of beauty so much that just your belief in it can change your behavior positively or negatively.
So maybe you don't break that endless loop by changing your looks. Maybe you break it by giving up that wild curiosity, that desire to know what it would be like. It's possible to chase happiness, after all, even if you never carry triplets or walk on the moon.
Copyright 2018 NPR. To see more, visit http://www.npr.org/.

First Listen: Liz Brasher, 'Outcast'
Getting to know a new artist's music can feel like falling in love. One's senses are awakened, and every nuance is noted and internalized. When it comes to Liz Brasher, this is especially true, as each layer brings forth new things to ponder. There is, first, the remarkable instrument of her voice, which can deliver a power-pop howl as easily as it croons a stormy country ballad. Then the guitar captures you, at once crunchy and percussive. Even the way Brasher tacitly communicates with her bandmates in a live setting conjures smiles. The joy radiates off the stage.
We've been following Brasher (pronounced BRAY-zher) since the beginning of 2018, when she was tapped as an NPR Music Slingshot artist. Since then, we have eagerly awaited the arrival of her first official EP, Outcast, to hit the streets on April 27. (A full-length debut, Painted Image, will follow later this year.) Brasher and band have been busy playing out, making the rounds at SXSW, in Europe with Anderson East and Rod Melancon, and are now doing dates around the country with Ohio's Red Wanting Blue.
Make no mistake, Brasher is comfortable with it all: From the garage-fueled title cut to the pure tone of the sultry ballad "Remain," and from the girl group throw down of "Cold Baby" to the haunting riff of the first single "Body of Mine." Her music is like turning a prism to behold all the colors of refracted light.
Brasher, now a Memphis resident, grew up in North Carolina where she attended a Baptist church and sang Spanish in the choir. She is Dominican and Italian, and Southern to boot, so she claims a lifetime awareness of otherness as well as a rich heritage of duality. Her upbringing provides a kaleidoscope from which to draw. At the age of 27, she has synthesized the rock and roll of yesteryear and accumulated a surprising knowledge of and reverence for its history. That might help to explain her singular sound, which when coupled with her abundant inherent talent produces a big bang all its own.
Copyright 2018 WMOT. To see more, visit
WMOT
.
First Listen: Okkervil River, 'In The Rainbow Rain'
Like many musicians, Okkervil River's Will Sheff responded to the end of 2016's contentious election season by hunkering down to write songs. It'd only been a few months since Okkervil River had released Away, a somber and mournful reflection on hard transitions, from the passing of Sheff's beloved grandfather to some major turnover in the band. So he'd already been neck-deep in re-examinations of his life in the aftermath of monumental change. Here he was, staring at a fresh canvas: What to make of the world now?
At least where In The Rainbow Rain is concerned, the answer lies in a mixture of musical reinvigoration — warm, bright, surprisingly playful arrangements that amble and soothe — and a return to vivid and specific storytelling. In "Famous Tracheotomies," for example, Sheff reflects on his own early-childhood surgery, then tells the story of a few famous people (Gary Coleman, Dylan Thomas, Mary Wells, The Kinks' Ray Davies) who'd had the procedure; he even closes with a callback to the tune of Davies' classic "Waterloo Sunset."
From there, In The Rainbow Rain gets ever more limber and expansive, as if inspired by the near-death experience that kicks it off. Which, in a sense, it is: Sheff has come to see crises and crucibles as opportunities to luxuriate in life's gifts. He exudes gratitude — in "The Dream and the Light" and elsewhere — en route to the album-closing "Human Being Song," in which he expounds on the value and importance of staying alive in the world.
Copyright 2018 NPR. To see more, visit http://www.npr.org/.
First Listen: Speedy Ortiz, 'Twerp Verse'
The run up to Twerp Verse, the third record from Speedy Ortiz, included three vibrant music videos. Each one taps into the sardonic wit and playful imagination of its singer, guitarist and lyrical mastermind of Sadie Dupuis, but the video for "Villain" (directed in a crayon box array of retro colors by Elle Schneider) is especially powerful at distilling her message to something tangible. Recreating the campy feel of a monster flick, Dupuis is relentlessly provoked by a fish-headed creature, a surreal embodiment of invasive verbal abuse and physical harassment that women endure daily. "'I wanna know what kind of games you like,'" she recounts, before recoiling at these unwanted advances: "He talks like he knows me, so I'm being polite." Later, she sings "'I wanna know if a no means alright.' / He looks past my answer, did he earn the right? No way." — a dark inverse to her consent-positive mantra in "Get A Yes," a fizzy gem from Dupuis' solo project Sad13.
While the concepts at play in "Villain" are familiar territory Dupuis and Speedy Ortiz have covered in the past, she's never been quite this direct. Surprisingly, these themes weren't initially the album's intended direction. As the story goes, the band was primed to record in late 2016, but soon decided that batch of songs were "strictly personal or lovey-dovey" and no longer felt relevant amid the cultural and political shifts occurring post election. "Social politics and protest have been a part of our music from day one, and I didn't want to stop doing that on this album," Dupuis stated in the album's press release. The band shelved those efforts mid-stream and doubled-down to write new material that better reflected these turbulent, unprecedented times. The result, Twerp Verse, shows Speedy Ortiz at its most pointed and fearless.
With a Master's degree in poetry and a reputation for skillful, hilarious wordplay, Dupuis is among rock's more compelling songwriters. Across Twerp Verse's 11 tracks, she rapidly slings pop culture and literary references and shrouds her narratives in cryptic, visceral phrases worthy of decoding. And it gives license to speak hard truths and reveal personal anxieties — be it falling back into the familiar comforts of bad relationships ("Backslidin'") or mining contradictory feelings on love and commitment ("Moving In"). "Lucky 88" critiques the head-in-the-sand apathy and disillusionment of people watching the world crumble around them. "One more time with reeling / You siphoned out the feeling / Can't you act responsibly? / You're the sick pup who created me," she sings, before repeating "I don't care anymore..." with weary resignation. But Dupuis is best when wielding humor and sarcasm — and taking no prisoners. "You Hate The Title" is a withering rebuke of haters publicly nitpicking someone's opinions and creative endeavors, while still "singing along." "You hate the title but you're digging the song / You like it in theory, but it's rubbing you wrong," she seethes atop fluttering keyboards that belie her fed-up side-eye. "I can't, I can't, with your 'Just can't even's."
Recorded at Silent Barn in Brooklyn with Carlos Hernandez and Julian Fader (Ava Luna) and produced and mixed by Mike Mogis (Bright Eyes) at his studio in Omaha, Twerp Verse is both musically expansive and Dupuis' most accessible work yet, a blend of catchy pop hooks and dexterous guitar playing. "Buck Me Off" opens with that signature Speedy Ortiz formula, and the band — comprised of bassist Darl Ferm, drummer Mike Falcone, and guitarist Andy Molholt — outright shreds with overdriven chords and buzzy solos piercing through murky distortion. Similarly "Sport Death" unfurls razor-sharp riffs that mimic the vocal melodies, and builds tension through off-kilter chord progressions and half-step dissonance. Elsewhere, they fold in pitch-shifted tones, pulsing synths, and laptop beats ("Lucky 88") and skin-crawling atmosphere ("I'm Blessed") — something first hinted at on 2015's Foil Deer, and honed further on Sad13's 2016 record, Slugger — and invigorates what can be tricky subject matter with immediate uplift and noisy catharsis.
That's emblematic of "Alone With Girls" and "I'm Blessed," in which Speedy Ortiz both alludes to emotional bullying and violence in past toxic relationships, and uses its platform to amplify the voices and stories too often silenced or marginalized. "Lean In To Suffer," the album's anthem, refutes self-branded feminist allies who only appear supportive when they don't have to address their own privilege or problematic behavior. She's having none of that, quipping "I'm checking my phone / He's unworthy of talk / If he really wants to be the one, he'd forfeit shotgun for once..." It's in these moments, Speedy Ortiz's songs become about reclaiming agency, and finding empowerment through empathy. In that way, Twerp Verse is an album arriving right on time.
Copyright 2018 NPR. To see more, visit http://www.npr.org/.
First Listen: Half Waif, 'Lavender'
Nandi Rose Plunkett is a seeker. As frontwoman of synth-pop outfit Half Waif, Plunkett writes songs that travel profoundly inward — asking questions about who we are and how we relate to each other — over beds of electronic instrumentation that expand and recede like ocean tides. There is a darkness that cuts through Half Waif's songs, hinting at a searching that is often born of loss and struggle. Lavender, the group's latest album, centers on questions of loneliness and isolation, of the consequences of hard-fought wisdom and self-knowledge.
Half Waif spent months on the road leading up to the album's recording, and it shows; many of Lavender's songs have a narrator who feels adrift, reaching towards an unattainable sense of home. "You used to say / 'When are you coming back?' / Then came the day / When you no longer asked," Plunkett mourns on "Torches." In an essay about her single "Back In Brooklyn," a stunning piano ballad from the album, Plunkett describes how returning from tour left her feeling isolated and aching: "I was unmoored and questioning everything — not least of all my decision to forgo the stability and community I had cultivated in New York for something more ephemeral ... There is a loneliness about this life that is hard to describe."
"Back In Brooklyn" is the most unadorned of Lavender's songs: just Plunkett's voice and the piano (and a brief sample of a New York subway horn). It's perhaps the only place on the record where Plunkett's voice breaks from its classically-trained veneer: For all the impressive clarity and range she demonstrates across the record, there is something nearly heart-stopping about the way her voice cracks as she begs her listener to "listen for me now." Her formal training shines through, too, in the careful stacks of electronic arrangements in these songs and her layers of vocal harmonies. Bandmates Adan Carlo (bass and guitar) and Zack Levine (live drums) add touches that ground and structure the songs, providing a stable base for Plunkett's waves of synths and keyboards.
Lavender is, in many ways, an album about isolation, but its inverse threads its way into many songs; themes of connection — specifically, matrilineal connection — appear across the album. The album is named in honor of Plunkett's grandmother, who had a habit of picking lavender from her garden to boil on the stove — a ritual of beauty, but also one of purification, Plunkett believes. On "Salt Candy," Plunkett addresses her beloved maternal figures directly: "I was once a thousand other things now I'm not / I don't understand why / Mother do you recognize your daughter? / Little head so full of big ideas." There's an ache to the song, which — like many on the album — pulls gently on the tangled threads of growth, dependency, the self and family, earnestly seeking an answer yet fearful of triggering a total unraveling. But across its 12 tracks, Lavender shows Plunkett coming to terms with the reality that pain is often an important intermediary to wisdom, that a little unraveling can help let the light in.
Copyright 2018 NPR. To see more, visit http://www.npr.org/.
Can Triage Nurses Help Prevent 911 Overload?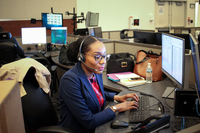 Most people are familiar with some form of triage: When you go to an emergency room, you first sit down with a triage nurse who records your symptoms, takes your vital signs and assesses the urgency of your medical need.
As of Thursday, that's happening over the phone for 911 callers in Washington, D.C., where triage nurses now sit alongside 911 dispatchers to help field calls.
Why are they there? D.C. has the highest rate of 911 calls in the U.S., and one in four of those calls is not an actual emergency — instead, it's a twisted ankle, or a cough or a rash. The new triage program aims to improve those numbers by diverting needs that aren't urgent to medical care that doesn't involve an ambulance or an emergency room.
During a practice session, trainee Ogechi Ukachu, a registered nurse who has previously worked in an ER, clicks through a series of questions.
"Are you having any difficulty breathing or catching your breath?" she asks the the training exercise's pretend caller, who has complained of a sore throat. "Do you hear any weird sounds when you're breathing — like whistling?" No, and no, the caller tells her.
It's not an emergency, Ukachu determines, so instead of having the dispatcher send an ambulance, Ukachu gets to work finding the caller an appointment with a primary care provider who can see the patient that day.
On her computer, based on the information the caller has provided, Ukachu can see whether the patient already has a relationship with a doctor or clinic, or, if not, which community health clinic is closest. She can also see nearby clinics' schedules for the day, so can make the patient an appointment.
The triage nurses can even coordinate free Lyft rides for people who are on Medicaid — including a stop at a pharmacy if needed.
The "ride" part of the new triage service is critical, proponents say, because that's the real emergency for many of the inappropriate calls to 911. Some callers simply have a hard time getting to the doctor in parts of the District where clinics can be miles away, and public transportation may not be readily accessible.
It has taken two years to pull off this plan. City health agencies, 22 primary care clinics, contractors and unions were all involved, under the coordination of the D.C. Fire and EMS Department.
"We're very excited," says Dr. Robert Holman, the department's medical director, "and of course we all have butterflies in our stomach."
Holman says he hit upon the idea soon after taking his job two years ago. He was looking at the city's emergency call data and noticed that more than a hundred calls every day were for basic medical issues.
"I simply asked a question," he says: " 'Wouldn't this be simply better evaluated using a triage nurse?' "
Other cities across the U.S., such as Louisville, Reno and the Dallas-Fort Worth area have tried similar initiatives, Holman says. But D.C.'s program is distinct in its broad reach, and in the way it's embedded within the 911 dispatch system.
The hope is that the triage line will save the city and insurers money — ambulances and ERs are the most expensive way to deliver care. Wait times for ambulances should go down, as should ER overcrowding.
And the patients will benefit, too, Holman believes. One example might be someone like a patient he encountered in his previous job at a walk-in health clinic; she'd come to the clinic looking for antibiotics for an infection.
"She mentioned that she'd had a bladder infection quite recently that was treated easily in an emergency department nearby," he recalls.
Instead of just giving her the antibiotics, Holman also checked the patient's vital signs and talked to her. Her blood glucose levels were really high. She was depressed, and had stopped taking her diabetes medication, she told him.
"We could actually offer her treatment for her behavioral health problem as well as treatment of her diabetes," he says, "in addition to [treating] her bladder infection."
This is part of Holman's message to city residents: Helping callers get a primary care visit, if they need one, is a service the triage nurse can provide.
"The mapping of our low-acuity callers exactly maps to where our community health centers are in Washington," he says.
However, D.C. has a somewhat rocky history when it comes to its emergency services. In a few high-profile cases in the past, patients have died while waiting for emergency care. Some 911 callers who are advised their case isn't an emergency may feel they're being denied something crucial.
To address these fears in advance, Holman and his colleagues have crisscrossed the District, going to community meetings and neighborhood associations talking to residents.
Lois Wiley, a longtime resident of the LeDroit Park neighborhood, is skeptical of the triage plan, and lets Holman know that at a public meeting.
"Suppose," she says, "I say I don't want to talk to the nurse, I want to go to the hospital?"
Holman tells her the city's response will be based on the severity of the problem. "If you call with a sore throat," he says, "we are not taking you to the emergency department."
"Oh, yes you are," Wiley says under her breath.
In the face of that sort of skepticism, Washington officials are prepared to carefully monitor how well the pilot project is working.
According to the city's plan, every caller who gets sent to a clinic instead of the ER will be surveyed the next day about their experience. And data analysts will be checking ambulance response time, ER use, primary care use and 911 call volume.
Other cities grappling with the same difficult issues will be closely watching, too.
This story is part of NPR's reporting partnership with local member stations and Kaiser Health News.
Copyright 2018 NPR. To see more, visit http://www.npr.org/.
Copyright 2018 NPR. To see more, visit http://www.npr.org/.
Benjamin Wittes On Comey's New Book
Copyright 2018 NPR. To see more, visit http://www.npr.org/.