Eclectic24
Player Bar
Eclectic24
Welcome to Eclectic24. KCRW's online 24/7 all music channel. We do not have any biographical information for the currently playing artist.
Browse the full Eclectic24 tracklist
NOW FEATURED ON ECLECTIC24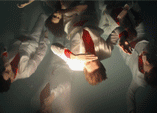 Arcade Fire's latest tops the list of most anticipated releases, with new works from Emiliana Torrini, Midlake, Agnes Obel, and new arrivals Lo-Fang, Basecamp and Until the Ribbon Breaks also making the cut.
FROM THE KCRW MUSIC BLOG
RSS #3
Loading Music News from Spinner.com ...
Support Eclectic24
ECLECTIC 24'S UNIQUE STREAM OF MUSIC IS ONLY POSSIBLE THANKS TO LISTENER SUPPORT...
TEXT E24
TO 20222 and make a $10 donation.
What is Eclectic24?
KCRW's all-music channel blending the collected talents and tastes of all KCRW's DJs into a single voice streaming 24 hours a day. Always on, no time slots – just the best of KCRW whenever and wherever you want it.