1) Shine a Light
After a year spent as Descanso Gardens' first-ever artist-in-residence, Carole Kim debuts the fruits of her labor, including metal prints, micro projections and window treatments. In addition, she'll be staging site-specific installations across the grounds throughout the exhibition's run. About her experience, the artist says:
"From day-to-day, month-to-month, season-to-season, the gardens are an ever unfurling site of changing detail worthy of our attention... I find expansiveness in both reveling in the sublime details (through a heightened awareness of "this worldliness") and venturing into the unfamiliar (creating a sense of "other worldliness.)" The artist goes on to discuss themes related to light, materiality, drawing as a dance with the landscape, structural geometry and organic complexity, the layering of live/real with illusory, and more.  You can read more here.
When: July 15 through October 27
Where: Descanso Gardens, 1418 Descanso Dr, La Cañada Flintridge 91011
Tickets: General museum admission $9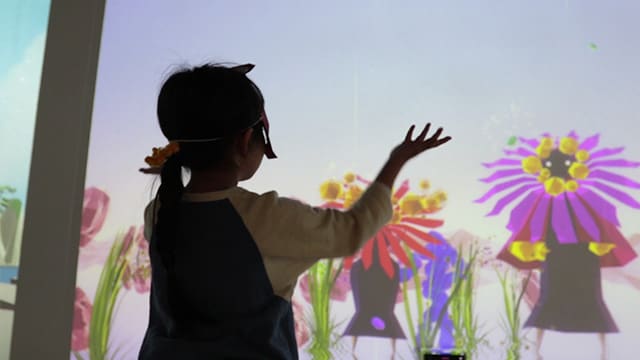 2) BAKERU: Transforming Spirits
Immerse yourself in the supernatural folk traditions of the northern region of Tohoku, Japan. Japanese creative art and design studio WOW create large-scale interactive projections using motion capture technology. Visitors will don special masks and transform (bakeru means 'transform' in Japanese) into characters and participate in scenes from a seasonal folk festival. 
When: Wed. July 17 - Sun. October 6, 2019
Where: JAPAN HOUSE Los Angeles, Level 2 Gallery, 6801 Hollywood Blvd, Los Angeles 90028
Tickets: Free. More information here.
3) Black Fire Sessions At The Broad
The exhibition Soul of a Nation: Art in the Age of Black Power 1963-1983 - on view at The Broad through Sept. 1 - "examines the work of 60 artists and explores the historical and cultural influences that define their unique approaches to Black art both as a vehicle for change and an expression of self-exploration." Now queue the music.
The Black Fire Sessions will create a live companion soundtrack in celebration and further expression of the art. The first of two events kicks off with a performance by Roscoe Mitchell (co-founder of The Art Ensemble of Chicago and AfriCOBRA collaborator) with Brett Carson (world-renowned pianist).  Joining them throughout the evening are three other Los Angeles-based musicians who experiment with the language of jazz. Busdriver, who ingeniously moves between funk, rap, and scat will perform in Oculus Hall and Georgia Anne Muldrow will present a labyrinth of vocals, keyboards, and other instruments, with her partner, Declaime. In the lobby, Teebs will layer and manipulate recordings into his signature "beat music." Mecca Vazie Andrews will animate the galleries of Soul of a Nation through three distinct movement and dance pieces.
When: Wednesday, July 17, 8:30 - 11:30 (The next event is August 14; you can see details here)
Where: The Broad , 221 S Grand Ave, Los Angeles 90012
Tickets: $25. You can read more and get tickets here.
4) Narrative Painting in Los Angeles
From fires to freeways, earthquakes to race relations,  the story of Los Angeles can be sinister, transient, and apocalyptic, but it is also opportunistic, perpetually sunny, and rooted in dreaming. Myth-making and storytelling are at the core of our creative culture and this impulse drives the Southern California painters whose work is examined at Craig Krull Gallery in the exhibition  L.A. Narrative Painting . 
The telling of stories through the visual arts can be traced back to the beginnings of civilization, but i n recent years artists have begun to tell their stories through images, allegories and symbols as a way to investigate and communicate ideas about gender, race, and politics. You can read more about the exhibition and the history of narrative art here.
When: Opening reception Saturday, July 20, 5 - 7 pm; Exhibition runs through August 31
Where: Craig Krull Gallery, 2525 Michigan Ave # B3, Santa Monica 90404
Tickets: Free
5) Lit Lit: The Little Literary Fair
Writers and those who read their words alike can enjoy this weekend's celebration of written words and the communities that surround them. Hauser & Wirth and the Los Angeles Review of Books have teamed up to bring the best of the indie lit world together at The Little Literary Fair, known affectionately as Lit Lit. The weekend-long party will including dozens of book shops, small publishers, and more.  In addition to the gallery's own publishing division, there will be stations from Angel City Press, Jaded Ibis Press, X Artists' Books, and dozens of others showcasing their wares. Make some room on your bookshelf - you've got some summer reading to do! Find a complete list of participating publishers, booksellers, and vendors here.
When: Saturday and Sunday, July 20 and 21, 11 am - 6 pm
Where: Hauser & Wirth, 901-909 E 3rd St, Los Angeles 90013
Tickets: Free. More information here.
And here's a special fundraising event Saturday... if you want to get your tennis game on in fabulous architectural surroundings, the MAK Center holds its annual MAKGames, tennis, cocktails, food, music and tours of the Sheats-Goldstein Residence, LA's ultimate bachelor pad, designed by John Lautner. It's to raise funds for the year-round free programming at the Schindler House. Click here for details.