This week, through Sept. 8: hear Kunlé Adeyemi talk about learning from Lagos about designing affordable housing in an age of climate change; discover new artists at The Other Art  Fair; celebrate Poketo's book about creative spaces and the people who create them; party at the launch of A+D's newest exhibitions; tour some of LA's at-risk buildings with those fighting to preserve them, and check out Third Street Promenade's new effort at placemaking.
1) USC Lecture: Kunlé Adeyemi
Nigerian-born architect Kunlé Adeyemi, who will speak at USC Wednesday night, garnered global attention for his 'Makoko Floating School,' a prototypical structure built for the people of Makoko, a slum on water with nearly 100,000 residents in the lagoon at the heart of Lagos. The school-come-community center, made out of local materials including recycled floating barrels, lasted around three years. A stronger version was then built for the 15th Venice Biennale. The project is part of a study – 'African Water Cities' – underway at the office NLÉ, an architecture, design and urbanism practice founded by Adeyemi in 2010. Adeyemi, trained in the office of Dutch architect Rem Koolhaas, will talk about Makoko and his other work Wednesday at USC School of Architecture. Hear Adeyemi talk about Makoko and what Angelenos can learn from Lagos on this week's DnA.
When: Wednesday, Sept 4, 6 - 8 pm
Where: USC Harris Hall, 825 Bloom Walk, Los Angeles 90089
Tickets: Free; click here for more information.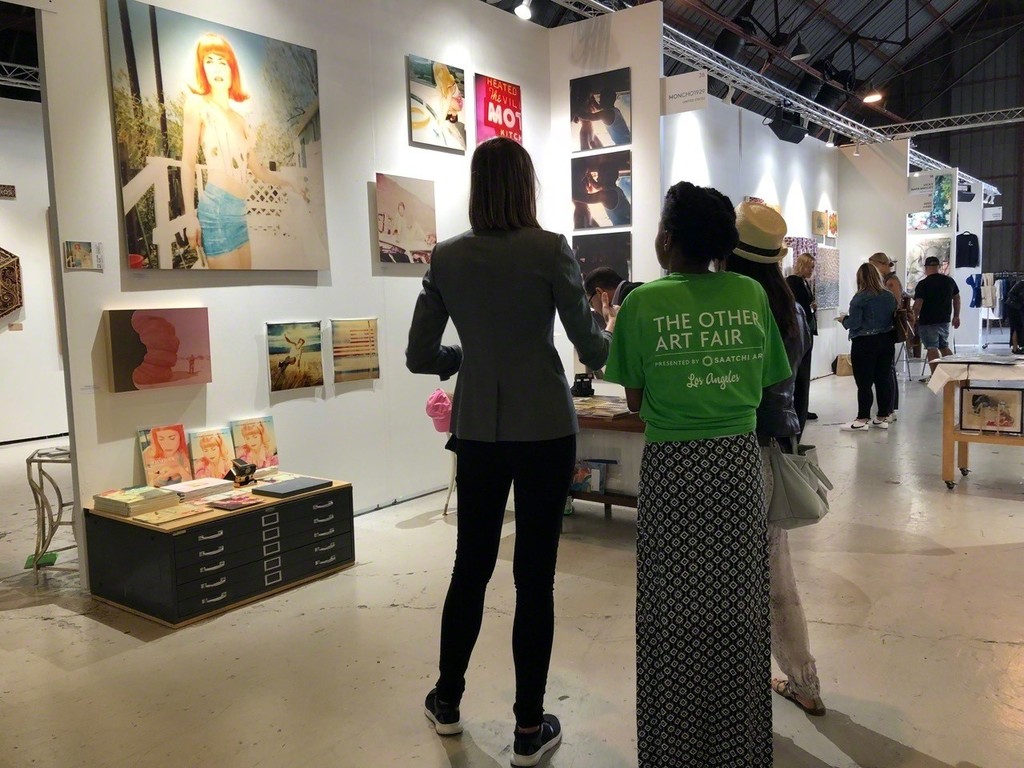 2) The Other Art Fair Los Angeles
Saatchi Art's The Other Art Fair returns to Los Angeles for its 4th year to showcase over 140 artists working without gallery representation. While the quality of the art is patchy, the fair is fun because you can meet the artists themselves -- maybe discovering a hidden talent - plus there is a line-up of workshops for visitors: exploring scent as a "creative practice"; storytelling with Instagram and sandal-making. Find more information, including a list of fair exhibitors, here.
When: Opening reception Thursday, Sept 5, 6 - 10 pm; Exhibition runs through Sunday, Sept 8. You can find detailed exhibiting times here.
Where: Barker Hangar, 3021 Airport Avenue, Los Angeles 90405
Tickets: Preview party $60 (includes parking). General Admission $15. Parking $15. You can save with advance tickets here.
3) Book Release Party: Creative Spaces 
From Ted Vadakan and Angie Myung, founders of design brand Poketo, comes the book Creative Spaces, a celebration of creatives, their work, and the spaces that inspire them. Creative Spaces explores the lives, homes, and studios of 23 artistic entrepreneurs, writers and designers including David Irvin, Adam J. Kurtz, ceramicist Helen Levi, and DJ Peanut Butter Wolf. While writing the book, Vadakan and Myung "learned that true creative space knows no boundaries. A creative space can be anywhere...The creative space is not purely physical, but a mental state of being where you feel free to be creative and to ultimately, be you." Join the authors and some of the people featured in the book for a book signing and panel discussion, at their ROW DTLA store.
When: Thursday, Sept 5, 7:30 - 10 pm
Where: Poketo Project Space, 777 Alameda St #174, Los Angeles 90021
Tickets: Free; click here to RSVP
4) A+D Fall Assembly: The launch of three new exhibitions
In recent years A+D Museum, the scrappy, independent museum of design and architecture located in the Arts District, has amplified its range of exhibitions and delivered them in packages. These simultaneous shows are launched with parties dubbed The Assembly. This Saturday's Assembly celebrates the launch of four new exhibitions: Proof & Prototype; Virtual Bauhaus; Speculation at the EDGE; and Gallery X.
Proof & Prototype showcases OOO Magazine, a boutique magazine for the fanatical fans of Porsche cars. The exhibit displays the subscription magazine, with book quality photography and design, by way of exploring brand identity, and in turn, community identity." 
Virtual Bauhaus uses VR to transport visitors into the architectural space of the iconic Bauhaus Dessau building as it existed in Germany in the 1920s. Through this immersive environment, visitors explore the school's central ideas. 
Speculations at the EDGE is an exhibition showcasing the 'end of career' work from SCI-Arc Postgraduate Program students in the 'Architectural Technologies' and 'Design of Cities' courses. 
Gallery X takes its name from the A + D's venture into curating beyond its walls. The exhibition presents the work of local muralists, while exploring how developers can work with the local community to create a positive environment and thoughtful change.
When: Saturday, Sept 7, 7 - 10 pm
Where: A + D Museum, 900 E 4th St, Los Angeles 90013
Tickets: $5 at the door or Free to members; click here for more information.
5) Saving Los Angeles Landmarks Tour
Citizen-preservationists are fighting hard to protect the places they love in Los Angeles - through attendance at public hearings, submitting landmark nominations and battling with developers and proponents of change. The Saving Los Angeles Landmarks tour is a trip down memory lane with Esotouric, the tour company helmed by ardent preservationists Richard Schave and Kim Cooper. Stops on the tour this Saturday are scheduled to include Lytton Savings, 8150 Sunset Blvd, Hollywood (Kurt Meyer, 1960) - soon to be demolished to make way for a mixed-use complex designed by Frank Gehry; Vermonica, Santa Monica Blvd & Vermont, East Hollywood (Sheila Klein, 1993-2017); and the Metropolitan Water District, 1111 W. Sunset Boulevard, Victor Heights (William L. Pereira, 1963).
When: Saturday, Sept 7, noon - 4 pm (check in at 11:30)
Where: Urban Radish, 661 Imperial St, Los Angeles 90021
Tickets: $60. You can get tickets here. Click here for more information.
And for those who embrace change, especially when carefully considered...
Promenade 3.0
Some people are trying to stop LA from changing too fast; others are figuring out ways to manage change creatively. Take Santa Monica's Third Street Promenade. The hot entertainment destination has cooled somewhat in recent years, facing the same disruptors to retail experienced everywhere. So the city, the business district's nonprofit Downtown Santa Monica, Inc. and designers Rios Clementi Hale studios are testing ideas for changes to three pedestrianized blocks. Balloons, lawn games and lots of different kinds of chairs now scattered throughout the plaza are part of The Experiment. That in turn is part of a redesign project called Promenade 3.0. This Saturday, the LA Forum, along with urban planner Alan Loomis and designer Nate Cormier, will host an "Out There Doing It" tour of Third Street Promenade, explaining Promenade 3.0 in the context of ideas about placemaking and 'tactical urbanism' today. You can hear more about all this on this week's episode of DnA. Click here for information.