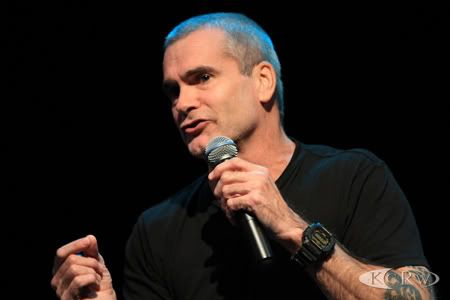 We called Henry Rollins' first-ever benefit show for KCRW "Rare Cuts and Conversation" and we weren't kidding – almost every single piece of music he played had never been heard before by more than a handful of people.
And the few hundred people gathered at the Echoplex for the evening were treated to something beyond special – we were experiencing music history, an alternate version we never knew existed before.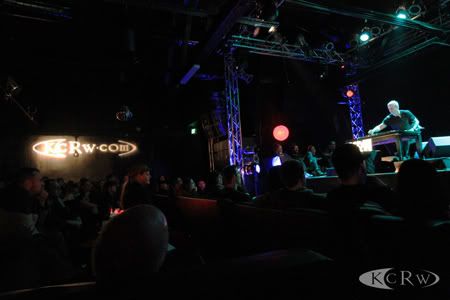 I knew Henry saved everything and many musicians entrusted him with their music because he is not only a friend and a fan, but a dedicated archivist who takes preserving art seriously. While much of that trust involved never playing the songs on the radio, playing them in what was virtually an extended living room seemed not only appropriate, but necessary.
These songs deserve an audience – from the first song, a version of "Killer Queen" with just Freddie Mercury's vocals (which he received at 6am the morning of the event from an unknown source) to the last, the first ever Fugazi demo ("Waiting Room")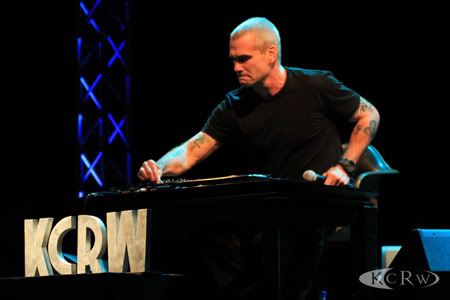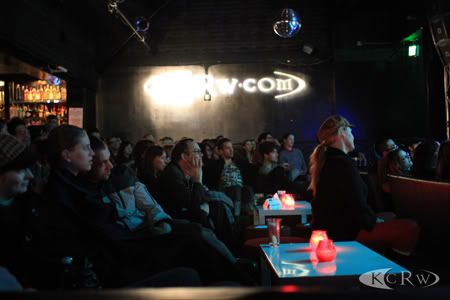 He also treated us to the "missing Misfits track," a version of the Bad Brains "Pay to Cum" (the song that inspired him to join a band) from their second ever live show, Joey Ramone singing a solo acoustic version of "I Don't Want You," a few Black Flag rarities and, of all things, a chilling recording by Charles Manson for SST Records that took the air out of the room.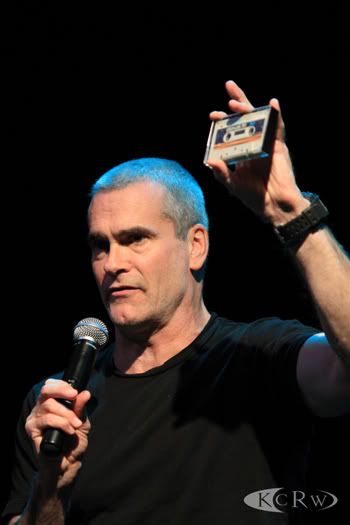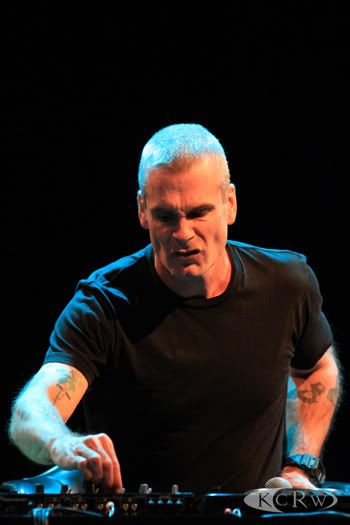 Like KCRW DJ Anne Litt, who wrote a beautiful love letter to collective music listening, I was also most affected by his stories about Iggy Pop. Not only does Henry do a spot-on imitation of Iggy's voice, they have a long history.
My favorite – Iggy sent Henry a cassette, which he ignored for days, only to listen and hear his own writings put to music. Hearing Iggy's signature voice singing Henry's dark lyrics with just an acoustic guitar was thrilling.
The full set list is below but, to be honest, it really doesn't do the evening justice. Henry is a storyteller and he has WAY better stories than most. This was a once in a lifetime event that was not recorded for broadcast in any way, but hopefully we can convince him to do something like it again…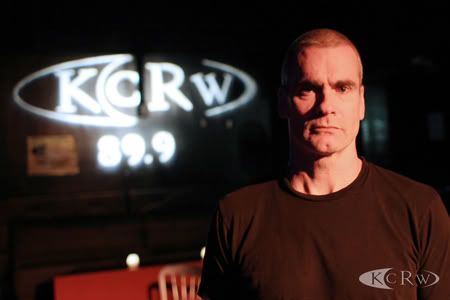 Henry Rollins's "Rare Cuts and Conversation" KCRW Benefit Set List
Queen – "Killer Queen" (vocals only)
Black Flag — "Just Give Us a Break"
Black Flag – "Depression"
Black Flag — "Louie Louie" – with Henry on Vocals
Black Flag – "Chipmunk"
Nick Cave – "From Her to Eternity" (album version)
Nick Cave – "From Her to Eternity" (alternate version, just vocal and piano)
Birthday Party – "Wings Off Flies"
Birthday Party – "Little Doll" (Stooges cover)
The Stooges — "Raw Power" (original album version)
The Stooges — "Raw Power" (version re-mixed by Henry)
Iggy Pop – "Untouchable" solo acoustic song with lyrics from Henry's writings
Black Sabbath – "The Rebel" (an early version "without the bells and whistles")
The Misfits – "Arch Angel" (with Glenn Danzig playing everything but bass. Henry called it "the missing Misfits track.")
Public Enemy – "Yo Bum Rush the Show" (demo version)
Dee Dee King (w/ Debbie Harry) – Mashed Potato Time
Dee Dee King – The Goon (unreleased demo)
Joey Ramone – "I Don't Want You" (solo with acoustic guitar, found on a cassette in Johnny's closet)
The Ramones – "I Wanna Be Sedated (live at Agora)
Bad Brains – "Pay to Cum" (original single)
Bad Brains – "Pay to Cum" (live version from their 2nd ever live show)
Bad Brains – "The Man Won't Annoy Ya" (Black Dots version)
Bad Brains – "The Man Won't Annoy Ya" (Ian MacKaye's mix)
Charles Manson – "SST Recording Studio"
The Gun Club – "Mother Earth" (demo)
Meat Puppets – "Up Around the Bend" (Creedence Clearwater Revival)
Brief Weeds – "Ambrosia II" (members of Fugazi and Rites of Spring)
Fugazi – "Waiting Room" (first ever Fugazi demo)