Here's my conversation with Warren Olney about how complicated it is to vote in the Mexican election if you're an expat. "The potential of these voters could change the elections in Mexico," says one Mexican voter living in the U.S.

And here's a primer on the candidates.
ENRIQUE PENA NIETO: INSTITUTIONAL REVOLUTIONARY PARTY
Pena Nieto is the candidate for the Institutional Revolutionary Party (PRI), which governed Mexico for most of the 20th Century, often using vote-rigging and other corrupt methods to stay in power. Pena-Nieto, the former governor of the State of Mexico, portrays himself as the "new face" of the PRI, which has vowed to respect democratic values. Critics accuse him of being a puppet of power of the PRI's old guard and a man who depends more on charm than substance.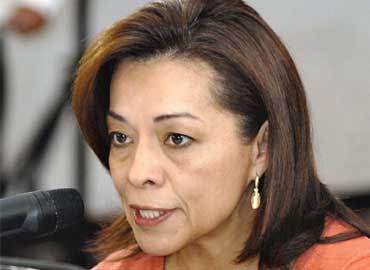 JOSEFINA VAZQUEZ MOTA: NATIONAL ACTION PARTY
Vazquez Mota is the candidate of the right-of-center National Action Party (PAN),which has won the presidency in the last two elections. She was most recently the leader of the PAN delegation in the lower house of the Mexican Congress, stepping down in September of 2011 to compete in the presidential campaign. Vasquez Mota has been Mexico's Minister of Education and the Minister of Social Development. She's the first female presidential candidate from a major political party.
ANDRES MANUEL LOPEZ OBRADOR: PARTY OF THE DEMOCRATIC REVOLUTION
Andres Manuel Lopez Obrador, otherwise known as ALMO, is the candidate for the left-of-center Democratic Revolutionary Party. From 2000 to 2005, he was the popular mayor of Mexico City and a presidential candidate in the 2006 elections, which he lost by less than a single percentage point. During the 2012 campaign, he's worked to moderate his image, reaching out to Mexico's business community and the middle class.
GABRIEL QUADRI DE LA TORRE: NUEVA ALLIANZA
Quadri, a noted ecologist, is a political novice who presents himself as the "candidate of the teachers." Quadri has come out  in support of same-sex marriage and the reforms of PEMEX, Mexico's powerful state-owned petroleum corporation. He's currently polling around one percent of the vote.
There are 8 to 12 million Mexicans living in the United States who are eligible to vote in the Mexican presidential election, but only a small fraction will actually cast ballots, many believe they are hobbled by an overly complicated election process. KCRW talked to a Mexican electoral official about the Mexican expat vote, which she calls "a very complicated process."